Marshall Bergman are a favourite of ours here at BagServant. Every single one of their bags wows us with the sheer quality and impeccable design down to every single detail. The Marshall Bergman Envelope Clutch bag is certainly no different when it comes to following all of the trademark rules of the amazing Marshall Bergman brand! This bag is absolutely perfect for taking from the office to a sophisticated evening out with colleges as it especially caters for both 12″ and 15″ laptops. You can be sure that your laptop or tablet will be safe and secure in your Marshall Bergman Envelope clutch as the voluptuous padding engulfs every inch. Another detail that Marshall Bergman have not missed on this great bag is the fact that you do not want to be pushing down on a popper fastening as you may damage your prized possessions, therefore a stylish postman lock has been secured to main opening of the bag. If this wasn't enough a strong magnetic fastening has also been integrated into the handy back pocket. Every little detail has been thought of in this high quality office to evening bag to make your life as easy as possible.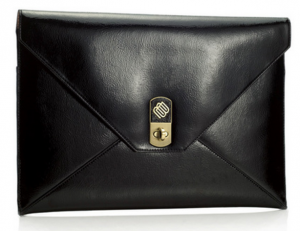 What are they made of?
The Marshall Bergman Envelope Clutch Bag is crafted from a gorgeous patent material and lined with the Marshall Bergman signature jacquard fabric.
How big are they?
You can grab these bags in 2 great different sizes depending on the size of your laptop. The smaller Marshall Bergman Envelope Clutch is big enough to fit a 13″ laptop and the bigger size enough to fit a 15″ laptop.
Styling Tips
Wear the Marshall Bergman Envelope Clutch with your usual work attire to add some glam to your everyday office look then fling of the work jacket and team with a smart dress for an evening meal. Perfection.
Office Boardroom perfectionist, you will adore this beauty!
Why we love it?
We love everything that comes from Marshall Bergman. This bag is a fantastic idea and we would love one ourselves as we love the idea of having a bag that we can take from the office to dinner and still look extremely glam. The quality of this bag is incredible and it is impossible to describe just how high quality these bags are without seeing and touching them in person! They are fantastic!
Shop Marshall Bergman Envelope Clutch
Comments
comments